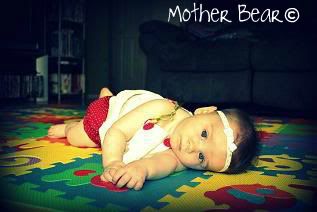 If you're a mom who does yoga, you know a good yoga mat can cost you anywhere from $20 to $50 or more. But if you're a yoga mom with a baby and wood or tile floors, you might have already realized there is a cheaper alternative that keeps everyone happy and active. That's right, I'm talking about foam puzzle play mats. Unfortunately for myself, my husband used my yoga mat one day to lay on while he worked under his car in our garage. Having been recently laid off, a new mat was just out of the question.

A short time later, I was putting together my daughter's alphabet puzzle mat, as she was learning to crawl and I feared that our wood floors would prove harsh on her little knees, and it came to me! The puzzle pieces are made of thick foam, and usually come in packages of about 36. (All of the letters of the alphabet, plus numbers 0-9). Our living room is small, and the pieces covered more than enough space for my daughter to play on one side, while I turned on my favorite yoga video and did some much needed and relaxing yoga on the other side.

The price of our particular set was just as much as a cheap but reliable yoga mat, purchased by my mother (thank you mom!) for about $15. We also found them on sale and were able to get two sets, for little over the price of one. There are so many different kinds of puzzle play mats, in different colors and sizes, etc., that you might be better off searching out what best fits your familie's needs on a site like HTTP://WWW.AMAZON.COM/ to find a range of styles and prices to give yourself some options. The only thing I wouldn't recommend, is purchasing the mat just for yoga. Clearly it's not something that will stay together very well outdoors, or something you would feel confident whipping out and putting together in a classroom setting.
I'm recommending the play mat for anyone who has hard floors and a baby, and wants to do a little bit of yoga during play time, as a sort of two for one. Now that my daughter is walking, I have maybe 12 pieces put together in my living room where she can sit and play, and the rest of them only come out, you guessed it, when mama needs some yoga time. *Update* My daughter is two now and enjoys exercising and trying yoga with me. How's that for awesome!?

Not only does my daughter's play mat serve for cushion when crawling or falling, as well as a funky yoga mat for myself, it also serves as a learning tool. My daughter loves taking the pieces apart and fitting them back together, but more importantly, the letters and numbers on our first set can pop out of the pieces and allow us to build small words together. We have a lot of fun sounding out the letters and learning words with our mat, and they are super easy to clean too. All you have to do is wipe your favorite cleaning wipe, or spray your favorite baby friendly cleaner and wipe it over the top, and presto, clean mats free of drool, juices, and other unwanted substances!
I know I linked you guys to Amazon up there somewhere, but I went ahead and looked them up for you guys and in case you wanted to purchase some, well, here you are!