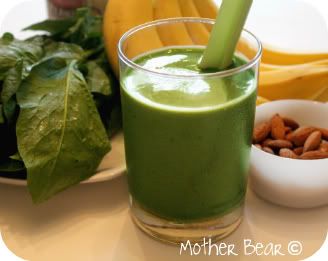 If you're looking for an improvement in health and energy, here's a quick and simple recipe for none other than, the Green Monster. Keep in mind that this is my personal favorite version of the recipe (because it looks funky, but it's super delicious), but the ingredients can be substituted for fruits, juices, etc. that you like better. You can also add in any protein powder of your choice. Below you'll find the recipe I used for the photo above, and below that you'll find a list of other ingredients that are commonly used in other versions of the Green Monster.

You will need:
- 1 organic banana
- 1/2 cup frozen fruits of your choice
- 1 splash acai juice
- 1 handful fresh organic spinach
- 1 spoonful peanut butter
- 1 small handful almonds
- 2 large spoonfuls Greek yogurt
- 1 pkg. instant breakfast flavor of your choice
- 1/2 cup 2% milk (or soy, hemp, almond, rice, etc.)
- 1 handful ice

*If your allergies are acting up like they could very well be here in this Texas area, add a tablespoon of local honey!*

Other ingredient ideas:
- 1 scoop Amazing Grass Wheat Grass
- 1 Tbsp. flax
- 1 handful kale instead of spinach (I use spinach because youcan't taste it at all, kale on the other hand is more noticeable)
- pumpkin seeds
- pinch of nutmeg
- Maca powder
- coconut oil
- chia seeds
- carob powder
- cocoa powder
- kyolic garlic extract
- pure peppermint extract (or fresh mint leaves)
- you could also steam your spinach as it helps with calciumabsorption
- Vega Smoothie Infusion
- extra firm tofu

It's a smoothie so instructions are self explanatory! Throw them in the blender and blend until smooth! My recipe makes about two and a half to three cups of smoothie depending on your "handful", "splash", spoon sizes and amount of ice, as well as supplements, should you decide to add any. In other words, I typically find that there is just the right amount for my husband and I both to have a smoothie each in the morning, or enough for myself to have one at breakfast and one at lunch. These can certainly be altered to be more kid friendly, depending on your child's age. Enjoy!