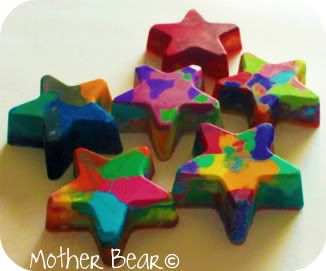 You can make these crayons in any shape you prefer, as well as color/s. I made these for my daughter out of leftover and broken crayon pieces. I made a solid colored one out of a few shades of red, as well as one with earthy tones, but the rest I just threw colors into to make them fun! I love them because they don't break like regular crayons do either, they're super durable.
You will need:
- all the leftover broken crayon pieces from your child's crayon collection (or whole new crayons that you can break into pieces if you're making gifts out of them)
- a mini muffin pan (I used a silicone star shaped muffin mold to get the crayons in the picture above)
I'm not going to do a step-by-step here since it's really self explanatory. Just put the pieces of crayon into whatever baking container you decided to use and bake them until they are melted in your oven. I was told to bake them at 250F, but my oven is broken and won't light if I try to put the temperature below 350F. So, I baked them at 350F and it worked out just fine! Let them cool before popping them out of the mold and you have new usable crayons in less than fifteen minutes! Enjoy!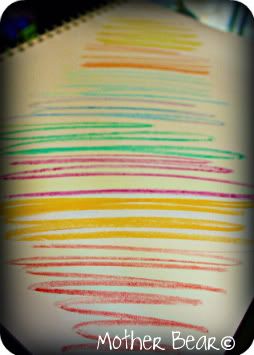 I decided to do a little search for the mold that I used for my star shaped crayons and found a link for you guys if you're interested in purchasing one!