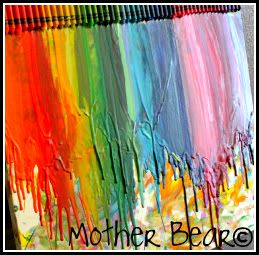 You will need:
- one canvas, any size you'd like
- a box of crayons (enough to line the top of your canvas)
- hot glue gun
- blow dryer

I let my daughter play with non-toxic finger paints on the canvas before hand, just to let her have a little fun. So if that's something you want to do also, you will need:
- non-toxic paints
- paper plates to hold paint
- wet wipes for cleaning little hands

This was a fun project to do, even with my one year old since I let her paint on the canvas first it came out very colorful. If you want your child to do the project himself (with supervision), it will of course need to be at a later age than sixteen months!

First I removed the black, grays, browns, silver and gold from my box of crayons, leaving me with just the really colorful crayons. Then I laid them out in the order I wanted them on the canvas, like colors touching from dark to light. When I was ready to put them on the canvas, I used a hot glue gun to apply them. Once they were all glued on, I set the canvas standing up against my bathroom mirror and we took a blow dryer on the hot setting and held it above the crayons.
Keep in mind this was our first time attempting this project, so it was a learning process! Don't hold the dryer at the crayons, but hold it above them unless you use a low setting as it can cause the colors to run sideways instead of down. The crayons will soon begin to become shiny and start melting onto the canvas.

*Note that unless you are doing this project outside, you might want to put some newspaper or cardboard under the canvas before you start the blow drying step since the colors can drip or blow off of the canvas.*

You can also get a little more creative and use color schemes, or even glue crayons to each edge of your canvas and dry them one at a time until you have them all running towards the center, etc. If I were to do this project again in the future, I would wait until my daughter could participate more without painting on the canvas first, I think it might look better. I would also probably use two or three small canvases and divide the colors between them and arrange them in different directions upon hanging them.
There are a lot of different ways to do crayon art, so it's all up to whatever you think you'll like best. It's meant to be fun, so don't take it too seriously if the colors mix together too much or run in a different direction. Individuality is key when it comes to making art!