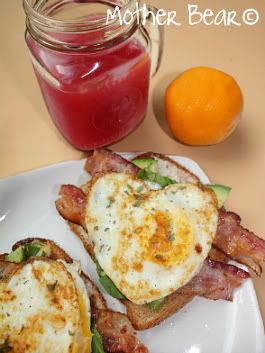 On my husband's days off we usually make a big fun family breakfast. This past Sunday he was working out in the garage so I was left up to it myself. I stood in front of my griddle with the necessary ingredients to make egg sandwiches when this baby dawned on me. Now I present to you... something that I haven't found a clever name for yet.

To serve my family of three I used:
- four slices of whole grain bread
- one avocado
- fresh spinach leaves
- bacon
- one small fresh basil leaf
- grated cheese (But I was thinking about using provolone slices next time, hmmm...)
- eggs
- your favorite mayonnaise (I used regular mayo)
- your favorite mustard (I used a Dijon)
- salt n' pepper
- griddle or cast iron skillet work best

1. Cook your bacon first and set aside. Without cleaning your griddle/skillet (unless you have a crazy amount of grease in/on it) crack your eggs onto the pan to cook. Now you can make your eggs any way you'd like. With two of these, I made my style of eggs over easy, and with the other two I scrambled the eggs together in a bowl first. Of course, I poured them into heart egg shapers, but again, you can make your eggs however you prefer.

2. Cut your avocado into slices, rinse your spinach and basil leaves, dry them off and set them aside.

3. Toast your bread to your liking and spread your mayonnaise and mustard over each of the slices.

4. Then all you have to do is layer your ingredients! I did two slices of avocado and shredded pieces of the basil leaf, two slices of bacon, a large spinach leaf, a pinch of grated cheese (although next time I'd like to try a slice of provolone) and the egg. I sprinkled a little bit of salt, pepper and then parsley (mostly for the look of it). I repeated that process with the rest of the ingredients and we all dug in. I have to say, it was one of the best breakfasts we've had in a while! Enjoy!