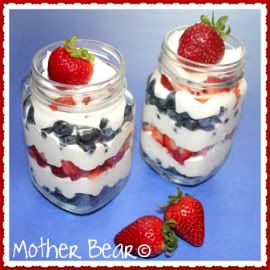 This is a very quick and easy patriotic dessert and it's mostly self explanatory, but I'll give you guys the run-down anyway! You can make the dessert in anything you'd like, be it smaller glasses, or a large 2 quart dish. Just keep in mind that what you decide to make it in will determine how much of the ingredients you'll need to buy. I used two mason jar style glasses with handles. They were perfect; easy to hold, a great height for a small spoon and easy to pack. If you're serving these to toddlers you can use smaller paper or plastic cups instead, either clear or with patriotic designs.

Approximations for the picture above:
- two pint sized glasses
- one small carton of strawberries
- one medium sized carton of blueberries
- one small container of coo whip
(You really need to go to the store already knowing what containers you're going to use for your dessert so that you better know how much of each of the ingredients you'll actually need.)

1. Wash and dry your strawberries, cut the tops off and then cut the remaining strawberry into pieces that you'll enjoy biting into. Either half them longways or chop them into smaller bites.

2. Wash and dry your blueberries.

3. Layer the bottom of your dessert container with blueberries, then cool whip, then strawberries, then cool whip and repeat until your container is full. (I'd never made this before, so if I could change anything, I would have had more fruit in between each layer of cool whip. But, I didn't know what containers I was going to use before I got to the store, of course, and didn't have enough fruit.)

4. Top your dessert with more fruit, either a strawberry or if you're using a larger container you can arrange strawberries and blueberries in a flag design, or something else pretty. :)

That's it! Super simple and super delicious. Enjoy!