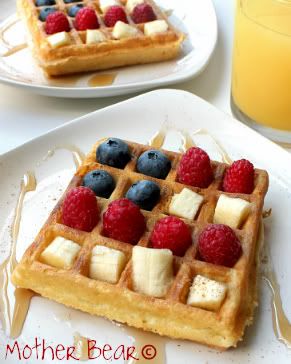 Here's a patriotic dessert that the whole family can salute! This recipe is super quick and easy and your kids can help you do it, which is always a plus! You can home make your Belgian style waffles, or if you don't have a waffle maker (whomp whomp) like myself :( then you can buy them in the frozen section of your local grocery store.

You will need:
- Belgian waffles (Home made would be fantastic, but frozen are fine, too. Toast them before adding your fruit!)
- blueberries
- raspberries
- bananas
- your favorite syrup

1. Home make or toast your Belgian waffles.
2. While they're cooking/toasting, cut your bananas into tiny pieces. I sliced mine into little circles and then quartered them.
3. Rinse and dry your raspberries and blue berries.
4. When your waffles are ready, add blueberries into the top right corner to create the stars section of your flag.
5. On the top row of the leftover squares, add your raspberries. One per square.
6. On the next row, add your bananas. One piece per square.
7. Repeat the process until all the squares are filled, top with warm syrup and enjoy!