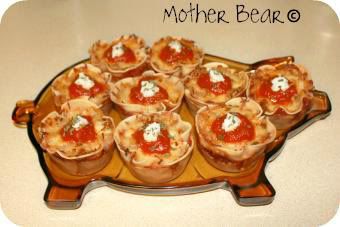 These personalized lasagnas are so easy to make and perfect for food on the go, in school lunches, or for little hands to avoid a huge mess! The pictures are the result of my first attempt at making these fun little cakes and I would suggest cheese, a lot more cheese! Then again, we love cheese here. :)

You will need:
(These are approximate measurements. Your cakes can have as much of or as little of whatever you would like!)
-12 oz. Ricotta cheese
-1/4 pound Italian sausage
-marinara sauce (I used Prego's Chunky sauce)
-shredded Parmesan cheese
-fresh spinach
-round Gyoza wrappers (Wonton/Pot sticker wrappers) If you're making twelve cakes, you'll need 24 wrappers.
-olive oil
-muffin pan

1. Preheat your oven to 375 degrees. Spray or rub the pan with olive oil to prevent the wrappers from sticking and to add a little flavor. Then press one wrapper into each muffin space to form a cup.
2. Drop a spoon full of pasta sauce into the bottom of each cup, followed by a smaller spoonful of ricotta cheese, and a sprinkle of your Italian sausage.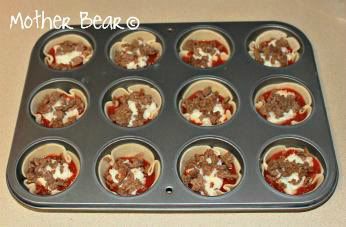 3. Place a piece of spinach on top of the sausage and cover each of your cups with another wrapper. Press the wrapper down until you have formed another cup.
4. Once again, add some sauce, ricotta, and sausage, then top with your Parmesan cheese. The only thing I would suggest doing differently from what I did, is add more Parmesan on top. I was trying to keep mine neat for the photo, but next time I'm going to pile it up! :)



5. I cooked mine for 30 minutes, but 20 may suffice, my oven is just getting... old. Just cook them until your Parmesan has melted and they are a nice golden color. When they're done they should just slip right out! I added an extra dollop of sauce and ricotta and sprinkled the tops with fresh parsley when they were initially done and popped them back in the oven for five minutes to heat the sauce and cheese. It made for better presentation and tasted just as great. Enjoy!