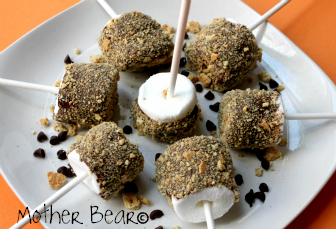 If you live anywhere like we do (in Texas) and aren't always allowed to start up a campfire due to droughts, but are craving yourself some s'mores, then I have a simple fix! These are easy, fire-free (and mess free!) s'mores that can be done with and for kids, without ever leaving the kitchen.

You will need:
- 1 package of large marshmallows
- 1 package of cinnamon graham crackers
- 1 package of semi-sweet chocolate chips
- lollipop sticks
- large ziploc bag
- shortening (Maybe. See instructions below.)

1. Place your graham crackers in the Ziploc bag. Use a rolling pin to crush them nearly into power. It's okay if you have some small chunks left. You could also buy graham cracker crumbs and skip the crushing! You can pour them into a bowl for easy access, or leave them in the bag to avoid dirtying dishes. Either way will work.

2. Twist your lollipop sticks into the center of your marshmallows until they almost come through the other side.

3. Melt your chocolate chips in a double broiler. You can also melt them in the microwave, but be careful not to burn the chocolate. If you're going to use the microwave, I'd put them in for 20 seconds and then stir them and continue that process until they're all melted and somewhat runny. If the chocolate is too thick add a spoonful of shortening until it becomes the desired consistency. **The only difference in not adding shortening to thin out the chocolate and adding it is, your thicker chocolate will provide a thicker layer of chocolate on your s'mores pops, while the thinner chocolate won't, but you'll be able to coat all sides in chocolate as you can easily dip the entire marshmallow into the chocolate.**

4. Holding onto the empty end of the lollipop stick, dip your marshmallow into the chocolate, and then into your crushed graham crackers. Set it on a piece of wax paper or a plate to dry and they should be dry and ready to serve in about 10-15 minutes. Or if you're like me, you can eat them right away, it really doesn't matter. Enjoy!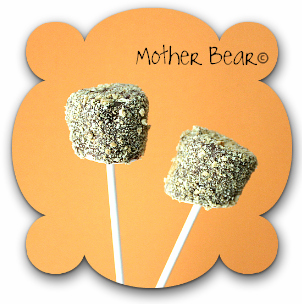 I had a hard time finding the little sticks for the pops. They didn't have them at my local grocery store, dollar store, Walmart, no where. To save you the hassle of searching around I found a link (one that had different sizes of stick so you can choose) and listed it below in case you'd just like to purchase some now! :)