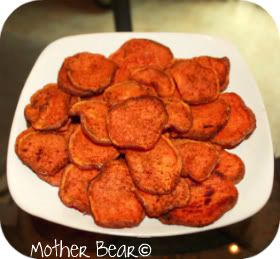 As most of us know, sweet potatoes are some of the most nutritious vegetables around. For those of us with kids who will eat them in any form, we can rest easy knowing they're getting loads of vitamin A, complex carbohydrates, fiber, vitamin B6 and vitamin C among other things when they eat this sweet vegetable. But, for those of us with picky eaters or even kids who love potato chips (that we'd rather not let them eat too many of), why not give these healthy homemade sweet potato chips a try? Not to mention they make an easy on-the-go snack!
You will need:
- two medium sweet potatoes
- approx. 2 tsp. olive oil
- approx. 1 tsp. sugar
- approx. 1/2 tsp. cinnamon
(This is just a general recipe that actually called for vegetable oil. I always use olive oil instead because it's healthier, but keep in mind you can also use vegetable oil as it's a lot cheaper. The sugar and cinnamon I actually eyeballed once I had my potatoes laid out in the baking pans.)
1. Heat your oven to 400F. Coat one or two baking sheets with olive oil cooking spray.
2. Wash your sweet potatoes and cut them into thin slices, placing them into a large bowl as you go.
3. Pour oil onto the palms of your hands and gently rub both sides of each slice of potato as you place it onto your baking sheet. (You could also pour some oil over the slices while in the bowl and toss them around to coat them, but I like the other method better because you can evenly and thoroughly distribute the oil.)
4. Once your potato slices are arranged in a single layer on the baking sheet, sprinkle them with cinnamon and a small amount of sugar.
5. Bake the potatoes for 20 minutes. If your slices came out thicker than thinner, bake them for 25 minutes. After the time is up, flip the chips over, sprinkle them again with your cinnamon and sugar (optional) and bake for another five minutes, ten if your slices are thicker.
6. When the time is up, remove them from the oven, let them cool and then you can eat them or pack them into lunches, etc.! Enjoy!