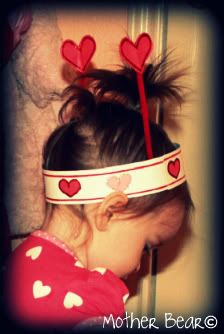 This is a super quick and easy craft that can be personalized in many ways. My daughter is a little young for scissors and glue, so I made these for her and her friend to wear around and have fun with on Valentine's day, but older kids can certainly do these on their own with supervision!
You will need:
- white construction paper (I actually used card stock so that they couldn't be ripped apart)
- pink and red construction paper
- red pipe cleaners
- red and clear glitter glue
- scotch tape
- ruler
- red marker
1. Cut two strips from the white paper you decided to use, as thick as you would like them to be, then tape two ends together to make one long strip.
2. Cut hearts from the pink and red construction paper and use your glitter glue to glue them to the strips of paper. (I used the glitter glue to outline the hearts to paste them to the strips.)
3. Cut four more larger hearts from the red construction paper for the antennae and set them aside.
4. Take a ruler and make a line with your red marker along both edges of your long white strip of paper.
5. Take your heart lined strip and measure it around the child's head to be sure it won't be too big or too small, and tape it together.
6. Take the four remaining hearts in pairs and glue or tape them to each other, around the end of the pipe cleaners, and tape the pipe cleaners to the inside of the now circular "hat", and you're all done!
Keep in mind, that this can really be done in any way you or your children would like. Different colors, all tape and no glue, little jewels instead of hearts... just use your imagination and if you're kids are old enough, just let them have fun!